Dates and Hours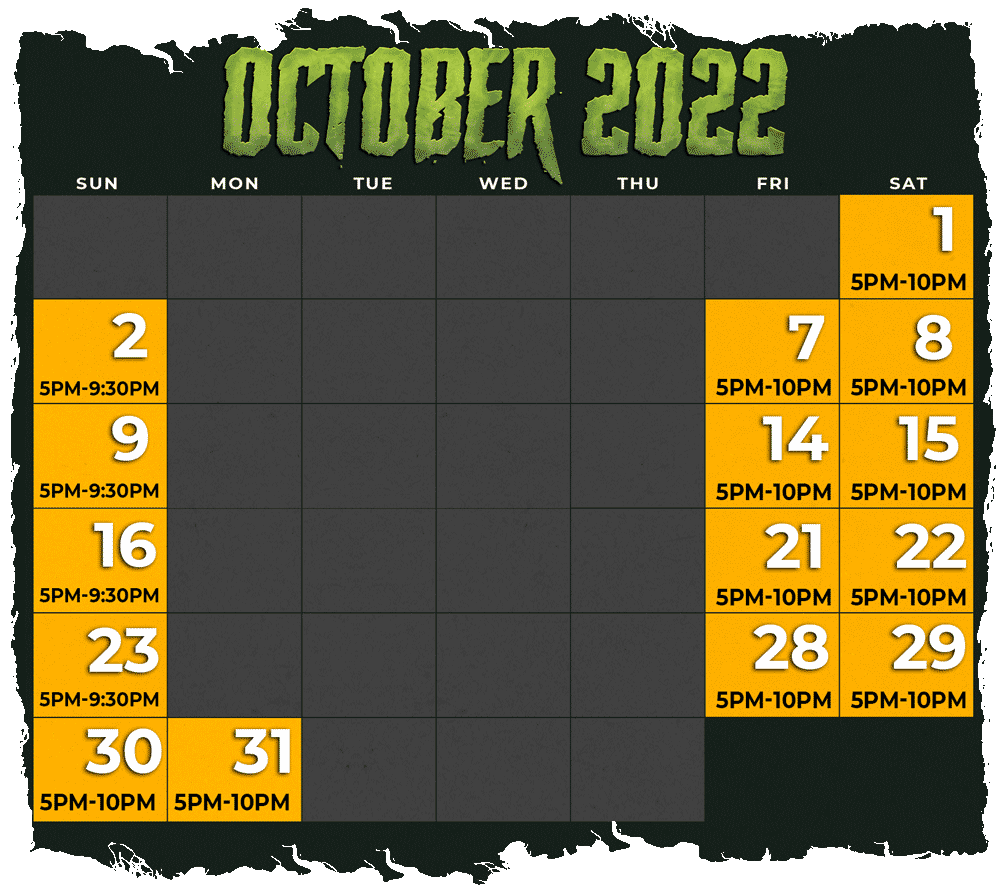 Our event includes our Haunted House, Halloween Market, and our educational Mummy Theatre showcasing unusual and exotic animals!
*From 5-6pm there are NO scare actors in the haunted house, NO live animatronics, and NO actors roaming the property outside of the haunt. This is for our younger guests and those who do not like having things jump out at them. 
*From 6:30 pm on there ARE scare actors & live animatronics in the haunted house, as well as actors roaming the property outdoors. At this time we are in FULL EFFECT!
*The Halloween Night Market will be open every weekend night! Our crafters and sellers of the curious and odd… You know you still need those final (or maybe EVERYTHING) touches for Halloween – for your costume, for your home. Our great vendors will have lots of spooky decorative items for purchase! So much cooler than any Big Box store.
*WE HAVE FOOD TRUCKS! COME HUNGRY!  And not just for brains…!
 Mummy Theatre Schedule
Sat, Oct 8th  –  Rattlesnake Presentation with JNW reptile rescue  6:30 – 7:30 PM
Sun, Oct 9th  –  "Crypt Sale" Halloween Flea Market Night  5:00 – 10:00 PM
Sat, Oct. 15th  –  RATical Rodent Rescue with Jenn  6:30 – 7:30 PM
Sun, Oct. 16th  –  BATS! with Corky  6:30 – 7:30 PM
Sat, Oct 22nd  –  7th Annual NorCal HearseCon  5:00 – 8:00PM
Sun, Oct. 23rd –  Falcon Fun with Karl  6:30 – 7:30 PM
Sat, Oct.  29th  –  Seven Wonders Tarantula with Jonathon   6:30 – 7:30 PM
Sun, Oct. 30th  –  Classroom Safari with Bonnie Cromwell   6:30 – 7:30 PM
Sun, Oct 30th  –  Halloween Costume Parade for the Littles  5:30PM
Mon, Oct 31st  –  Trick or Treating for the kids!  5:00 – 10:00 PM
*This is an all-ages event, though some parts of the haunted house when fully live may not be suitable for younger kids.
*Costumes always encouraged!
*All areas of the premises are Wheelchair Accessible.